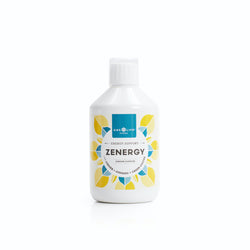 Zenergy – Liquid energy and nutrient support
Each 15ml shot of Zenergy contains a full vitamin and mineral complex, including 72 ocean sourced minerals and a plant based amino acid complex. Zenergy is fortified with a plant based herbal blend which delivers the same punch as a ginger shot, and also includes ginseng, ashwagandha, spirulina, green tea and green coffee bean extracts. 
High potency and highly absorbable liquid form
Biologically active ingredients to support bodily processes
Antioxidants for additional protection
Energy blend
Ocean sourced minerals
Natural ginger flavour
Sweetened with stevia
Suitable for vegans.


Vitamin E contributes to the protection of cells from oxidative stress
Vitamin C contributes to the normal function of the immune system including before and after physical exercise
Vitamin C contributes to normal collagen formation for the normal function of blood vessels, bones, cartilage, gums, skin and teeth
Vitamin D contributes to the normal function of the immune system.
Vitamin A (Retinyl acetate) 800UG 100%
Vitamin C (L-Ascorbic acid) 500MG 625%
Vitamin 03 (Vegan Cholecalciferol) 30UG 600%
Vitamin E (DL-Alfa Tocopherol) 48MG 400%
Vitamin B1 (Thiamine HCL) 25UG 2500%
Vitamin B2 (Riboflavin) 25MG 1790%
Vitamin B3 (Nicotinamide) 25MG 156%
Vitamin B5 (D-Calcium Pantothenate) 30MG 500%
Vitamin B6 (Pyridoxine HCL) 20MG 1428%
Vitamin B7 (D-Biotin) 300UG 600%
Vitamin B9 (Folic acid) 400UG 200%
Vitamin 812 (Cyanocobalamin) 400UG 1600%
Molybdenum 50UG 100%
Vitamin K2 (Menaquinone) 75UG 100%
Calcium (as gluconate) 25MG 3%
Magnesium (as gluconate) 18MG 4.8%
Iron (Ferrous gluconate) 3.5MG 25%
Zinc (as Gluconate) 10MG 100%
Selenium (Sodium selenite) 55UG 100%
Manganese (as gluconate) 2MG 100%
Chromium (as picolinate) 200UG 500%
Potassium (as citrate) 110MG 5.5%
Iodine (Potassium iodide) 150UG 100%
72 Trace Minerals (Ocean sourced) 25MG **
Choline (L-Bitartrate) 100MG **
Inositol 25MG **
Paba (4-Aminobenzoic acid) 6MG **
COQ10 (Ubiquinone) 5MG **
Lutein (Marigold) 10MG **
Zeaxanthin (Marigold) 2.5MG **
 Plant based Amino power: 50MG
L-Glycine **
L-Proline **
L-Alanine **
L-Glutamine **
L-Arginine **
L-Lysine **
L-Leucine **
L-Valine **
L-Isoleucine **
L-Taurine **
Plant based Herbal power: 565MG
Ginseng panax
Ginger extract **
Citrus Bioflavonoids extract **
Psyllium extract **
Alfalfa extract **
Brocoli extract **
Spirulina extract **
Ashwagandha extract **
Aloe vera extract **
Green tea extract **
Green coffee extract **
Grape seed extract **
Lycopene extract **
Lecithin extract **
C.A. Meyer **
*Daily Recommended Intake (DRI)   **DRI% not established.
Multi filtered water, Natural fruit juice blend from concentrates; Orange, Apple, Mandarin, Guava, Papaya, Lime, Mango, Pineapple, Grape, Organic Fruit and Beet sugars, Ascorbic Acid, Ginger Extract, Magnesium Gluconate, Potassium citrate, Calcium gluconate, Choline-l-bitartrate, Dl-Alpha Tocopherol, Zinc gluconate, Caffeine anhydrous, Ginseng extract panax C.A. Meyer, D-Calcium pantothenate, Ferrous gluconate, Thiamine Hcl, Riboflavin, Nicotinamide, Inositol, 72 Trace minerals (Sea, vegan), Pyridoxine Hcl, Plant Based Amino Acids: (L-Glycine, L-Proline, L-Alanine, Glutamine, L-Arginine, L-Lysine, L-Leucine, L-Valine, L-Isoleucine, L-Taurine), Manganese Gluconate, Lutein, 4-Aminobenzoic acid, Ubiquinone, Chromium picolinate, Freshness preserver (Potassium sorbate, Sodium benzoate), Zeaxanthin extract, Natural flavour (Natural orange), Citrus bioflavonoids, Psyllium extract, Alfalfa extract, Broccoli extract, Spirulina, Ashwagandha, Aloe vera extract, Green tea extract, Green coffee bean extract, Grape seed extract, Lycopene extract, Lecithin extract, Sweetener (Steviol Glycosides), Acidity regulator (Citric acid), Cholecalciferol (Vegan from Lichen), Cyanocobalamin, Folic acid, D-Biotin, Potassium iodide, Sodium selenite, Molybdenum, Menaquinone, Retinyl acetate.
Suitable for vegans. Non GMO and naturally free from gluten, soy, egg, nuts and lactose. 100% Natural flavouring and colouring.
Shake well before use. Take 15ml in the morning. We recommend to use no more than 15ml per day.
Each 500 ml bottle provides approx 33 servings.
Caution: If you have any medical conditions or if you are pregnant or nursing, consult with your healthcare professional prior to use. Discontinue use if any adverse reactions occur. Health supplements should not replace a varied diet.
Store cool, dry place. Refrigerate after opening. Use within 2 months after opening. Keep out of reach of children.