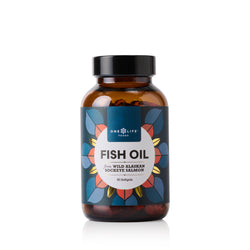 Wild Caught Alaskan Sockeye Salmon Fish Oil
One Life FoodsⓇ  Fish Oil is from MSC certified sustainably sourced, wild caught Alaskan Sockeye Salmon. 
Fish oil is often recommended by various healthcare practitioners as it can help with many conditions, as well being a must have staple in a balanced diet. However, not all fish oil is created equal, and for this reason, we've gone to great lengths researching and testing oils from different suppliers the world over. We've spoken with marine biologists, fishing families/companies, and producers from countries including Iceland, Norway, Chilie, Peru, and USA (Alaska).
We were looking for the purest, most biologically active, honest product we could find. Finally, we found a producer of Alaskan sockeye salmon oil, and everything about it was seriously impressive! 
Legit wild caught sockeye salmon oil isn't your regular fish oil. As the name suggests, the salmon is wild caught, rather than farmed - which is the case for other fish used for producing oil (including regular salmon). This means the oil is already way cleaner than oil from farmed fish, and that's before we talk about ocean geography. Farmed fish is notoriously fed a cocktail of antibiotics and other chemicals to keep them healthy, and this inadvertently makes its way (to a degree) into the finished oil. 
Wild Alaskan Sockeye salmon oil is sustainable too! This is because the oil is derived from the heads of the wild caught fish, which would otherwise be discarded. 
90 Soft gels 
Wild Alaskan Sockeye Salmon, Soft Gel Capsule (Fish Gelatin, Glycerin, Purified Water) Antioxidant (Natural Mixed Tocopherols).