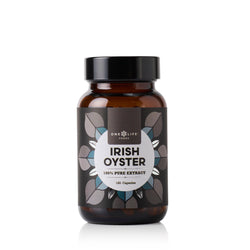 One Life Foods® sustainably harvested Irish Oyster Extract is harvested fresh from the Wild Atlantic Way, and dried into a powder on the same day to maintain freshness. 
Pound for pound, oysters are the richest source of Zinc for any food and offer unmatched bioavailability. This high bioavailability is due to the zinc being naturally bound to amino acids also present in the oysters. 
Irish Oyster Extract is also rich in vitamin B12, Selenium, Copper, Iodine, Manganese, vitamin D, and Omega 3. This nutrient dense extract offers everything needed to boost dopamine, sex hormones, and blood flow. The result is increased mood and sex drive - pair it with Shilajit, and blow the roof off!
Far from just a libido enhancer, Irish Oyster Extract also assists the body in producing Glutathione, supporting the immune system, energy metabolism, and cognitive function. 
Processed on the same day as harvest to maintain freshness.  

Extracted from mineral and vitamin rich oyster meat.
Careful drying process maintains the integrity of the vitamins and minerals found within. 

100% oyster extract powder - no additives. 

Highest source of Zinc for any food.
The Zinc in oyster capsules is naturally bound to amino acids which makes it very bioavailable. 

Also high source of Vitamin B12, Copper, Selenium, Iodine, Manganese, Vitamin D, and Omega 3.
Improves libido in both men and women.
Improves testosterone levels in the blood.
Supports energy metabolism.
Supports cognitive function.
Improves Glutathione levels.
Supports Dopamine production. 

Supports the immune system.
Helps maintain healthy bones. 

Helps with the body's cleansing process, by enhancing liver function. 

Each bottle is equivalent to at least 50 oysters.

 
120 Capsules 
Pure Oyster Extract Powder (Molluscs) (Sp. C. Gigas). Vegetable Capsule: Glazing Agent (Hydroxypropyl Methylcellulose).
Adults take 4 capsules daily.
Caution:
Do not exceed the stated dosage. A food supplement is not a substitute for a healthy diet or lifestyle. High in iodine. Keep out of sight and reach of children. Seek medical advice if pregnant or in case of hyperthyroidism.
Allergen Warning: Contains crustaceans and molluscs.