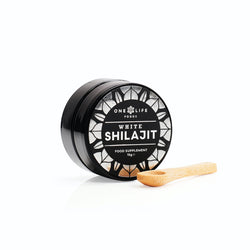 White Shilajit – Pure Altai Mineral Stone 15g
Known as the food of the immortals, this natural mineral complex should be used in cycles, to help rid the body of inflammation, bacteria, fungus and parasites. White Shilajit promotes the effective restoration of the body's systems; balancing immunity, replenishing intestinal microflora, regenerating tissues and promoting organ health.
This acute mineral structure seeps through the rock crevices in the mountains. Locals collect it in the Altai, eastern and western Sayan Mountains of Siberia, Mongolia and China.
The main difference between black shilajit and white shilajit (also called stone oil), is that the stone oil does not contain any organic elements. White shilajit is purely non-organic (not derived from or relating to living matter) and contains at least 49 micro elements including gold, silver, platinum, iridium, germanium, etc. in micro mineral state (m-state). It also contains a large amount of iron, copper, zinc, manganese, selenium, nickel, chromium, cobalt and titanium. As well as high levels of sodium, potassium, magnesium, phosphorus, calcium, manganese and iodine.
Assists tissue regeneration
Balances changes and disturbances in the musculoskeletal system (muscle fibres, joints, tendons, bones)
Restores the immune system
Balances intestinal microflora
Antibacterial
Reduces inflammation
Promotes organ health.
Store in a cool dry place, away from heat sources and direct sunlight. 
Serving spoon included.
Pure Altai White Mumijo-Shilajit mineral stone. Hand harvested and crafted by indigenous farming families in the Altai mountains of Siberia.

Add 1 level spoon (0.3 g spoon included) to 300 ml of filtered water. Stir until dissolved. repeat 1-2 times a day for the first 2 weeks, and then increase to 3 times a day for the next 2 weeks (if you think necessary). Take for a period of no longer than 1 month. Take at least 1 month break between courses. Use together with sea moss or Shilajit.

Drink through a straw. Duration - Keep any pre-made solution no more than 2 days and shake before use.

It is recommended you drink white Shilajit concoctions through a straw, so there is limited contact with tooth enamel. Not recommended for persons with individual intolerance of the components, obstructive jaundice, heart diseases, hypertension, thrombosis, breastfeeding, pregnancy. Consult your doctor before use.