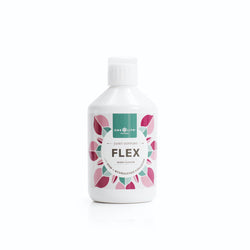 Flex – Liquid joint support
Each 15ml shot of Flex contains a formidable blend of important anti-inflammatory, joint supporting nutrients. This includes the powerful compound methylsulfonylmethane (MSM), hydrolysed collagen, glucosamine, turmeric, select vitamins and more.
High potency and highly absorbable liquid form
Relieves joint pain and stiffness
Reduces inflammation
Reduces exercise induced muscle damage and soreness
Improves integrity of connective tissues
Regulates immune system
Increases glutathione levels
Natural berry flavour
Approx 33 servings. 
Pure multi-filtered water for best uptake of collagen, Vitamins and nutrients, Sweetener (fructose), Hydrolyzed collagen (contains the amino acids: L-Glycine, L-Proline, L-Alanine, L-Hydroxyproline, L-Glutamic Acid, L-Arginine, L-Aspartic Acid , L-Serine, L-Lysine, L-Leucine, L-Valine, L-Threonine, L-Phenylalanine, L-Isoleucine, L-Hydroxylysine, L-Methionine, L-Histidine, L-Tyrosine, L-Cysteine), Ascorbic acid, Flavour (Natural fruit), Emulsifier (Xanthan gum), Colour (Natural purple potato extract), Freshness preserver (Potassium sorbale, Sodium benzoate), Acidity regulator (Malic acid, Citric acid), Sweetener (Steviol glycosides), Methylsulfonylmethane, Glucosamine sulfate, Chondroitin sulfate, 1-Camitine, Turmeric, Green Tea Extract, Cholecalciferol, Cyanocobalamin.
Non GMO and naturally free from gluten, soy, egg, nuts and lactose. 100% Natural flavouring and colouring.
Shake well before use. Take 15ml in the morning. We recommend to use no more than 15ml per day.
Each 500 ml bottle provides approx 33 servings.
Caution: If you have any medical conditions or if you are pregnant or nursing, consult with your healthcare professional prior to use. Discontinue use if any adverse reactions occur. Health supplements should not replace a varied diet.
Store cool, dry place. Refrigerate after opening. Use within 2 months after opening. Keep out of reach of children.