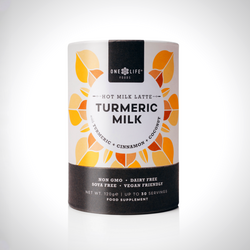 Turmeric Milk – Hot Milk Latte
With Turmeric + Cinnamon + Coconut

One Life Foods® Turmeric Milk Latte is a warming spice infusion based on the ancient Ayruvedic golden milk recipe. This soothing hot milk drink tastes great any time of the day. One Life Foods® Turmeric Milk Latte goes a couple of steps further than most, by including a small hit of vitamin C and just enough Bioperine® to ensure you get the best out of the nutrients on offer.
Contains Turmeric or 'golden goddess' which 

has been used in India for centuries as a naturally powerful way to nourish and support the body

Contains Bioperine® for increased nutrient absorption
Blended with coconut sugar and coconut milk powder for an extra sumptuous and indulgent taste
Non-GMO, dairy free, soya free and vegan friendly.
Barista Tip: As a latte, this sumptuous little number is best when mixed with 'Oatly Barista Oat Milk', 'Rude Health Coconut Milk' or a blend of both. Frothing a teaspoon of One Life Foods® Turmeric Milk Latte with these milks, will allow for a much better suspension of ingredients. Tasting note: 1 heaped teaspoon of Turmeric Milk is a satisfying flavour, but 2 teaspoons will give you that little extra warmth. 
Warm 200-250ml of your favourite oat or nut milk. In a cup, mix 1-2 heaped teaspoons of your One Life latte blend with a dash of milk/water to make a paste. Pour the rest of the milk in and stir well. 
Coconut Sugar (2.32g), Coconut Milk Powder (2.25g), Turmeric Powder (1g), Ginger Root Powder (250mg), Vitamin C (as Calcium Ascorbate Powder)(100mg), Cinnamon Powder (75mg), Bioperine® (5mg).
Typical Nutritional Information

per 100g

per 6g serving

Energy

1932kJ / 461kcal

115kJ/
28kcal

Fat

21.6g

1.3g

- of which Saturates

20.3g

1.2g

Carbohydrate

58.4g

3.5g

- of which Sugars

34.4g

2.1g

Fibre

6.0g

0.4g

Protein

5.4g

0.3g

Salt

0.21g

0.01g

Vitamin C

 

80mg
(100% *NRV)
*NRV = Nutrient Reference Value. Vitamin C contributes to maintaining the normal function of the immune and nervous systems.