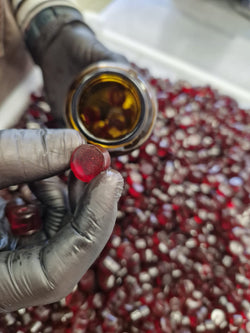 Busy, fast-paced lifestyles, weekend after weekend of partying, and/or general stress of family life are leaving many of us burnt out but struggling to sleep. Since sleep is when our bodies repair, then its importance is absolutely paramount. 
5 Sleep Facts:

Adults between 18 and 64 need seven or more hours of sleep per night. Adults over 65 need seven to eight hours (1).
Women have a lifetime risk of insomnia that is as much as 40% higher than that of men (1)
One in seven (14 per cent) Brits survive on dangerously low levels of sleep a night, under five hours (2).
66% of adolescents cite poor sleep as negatively impacting on their mental health (2).
Cognition, concentration, productivity, and performance are all negatively affected by sleep deprivation (3).
Our natural sleep gummies have been designed to help induce a deep relaxing and restorative sleep. We've selected the best ingredients, each known to help relax, calm, and allow for a quality night's sleep. Ashwagandha, passion flower, and full spectrum hemp extract work synergistically with melatonin to ensure you'll be well away in no time.

(1) National Library of Medicine, Biotech Information. The National Center for Biotechnology Information advances science and health by providing access to biomedical and genomic information. (2) Mental Health UK. (3) Sleep deprivation, vigilant attention, and brain function: a review Amanda N Hudson, Hans P A Van Dongen , Kimberly A Honn, The Neuroprotective Aspects of Sleep Andy R. Eugene, Jolanta Masiak, The sleep-deprived human brain Adam J. Krause, Eti Ben Simon, Bryce A. Mander, Stephanie M. Greer, Jared M. Saletin, Andrea N. Goldstein-Piekarski, and Matthew P. Walker.
 30 Gummies
Sugar, Glucose Syrup, Gelatin, Sorbitol, Ashwagandha Root Extract (7% Withanolides), Red Dye (Betaine), Natural Strawberry Flavour, Full Spectrum Hemp Extract, MCT Oil, Passion Flower Extract (5% Flavone), Melatonin.
Directions: Take 1-2 Gummies 1 hour before bed.
This product is not intended to diagnose, treat, cure, or prevent any disease. Store in a cool place. Keep out of reach of children. If pregnant, breast-feeding or taking any medications, consult a Doctor before use. If you have an autoimmune disorder, a seizure disorder, depression, diabetes or high blood pressure, talk to your Doctor before using this product. Discontinue use and consult a Doctor, if adverse reactions occur. 

Always cycle this product - it is recommended you take a break of at least 2 weeks between courses. 
DO NOT DRIVE OR OPERATE MACHINERY WHILST TAKING THIS PRODUCT.