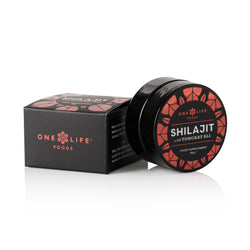 Shilajit + Tongkat Ali – Pure Activated 25g
The combination of Shilajit and Tongkat Ali produces powerful health-boosting effects, including:
Boosts testosterone production
Improves sex drive in both men and women
Balances hormones in both men and women to help maintain healthy metabolism
Boosts mood
Improves physical fitness/endurance
Promotes bone health
Helps to regulate immune system
One Life Foods® Shilajit with Tongkat Ali is another industry first! As we once again blend pure activated Shilajit resin with a herbal favourite. Whilst other brands are still promoting freeze dried Shilajit and herbal extracts in capsules, we are bringing you the real thing! 
We've sourced our Tongkat Ali from Indonesia, where it's harvested in the forests of Sumatra from mature roots to ensure higher concentration of eurycomanone, glycosaponin, and other bio-active compounds.
Pure activated Altai Shilajit resin, Indonesian Tongkat Ali whole root Extract, Liquorice root Extract.
Simply stir a large pea sized amount into warm water, black coffee, green tea until dissolved (1-2 times daily until you've completed a course). 
*The best way is to take a pea sized amount on a knife and stick it to the inside of a cup of green tea or black coffee. Stick it just below the water line and leave there for a couple of minutes, so it softens and begins to dissolve. Then, using the knife, gently rub back and forth against the side of the cup until it completely dissolves.
It is recommended you cycle this product. 
Various factors may affect optimum intake of this product. A particularly active individual may require a higher dose. Others may need to adjust intake depending on weight or medical condition(s). 
There may be a noticeable difference in solubility when compared to our single source Shilajit resin products. This does not affect the overall quality or efficacy of the product. 

Caution: Individuals with a suppressed immune system, as well as people taking hypoglycemic or blood pressure medication should avoid this supplement. It's also recommended that pregnant or nursing mothers and children avoid this herbal supplement.