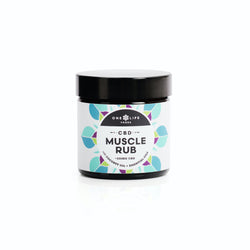 CBD Muscle Rub - 50 ml (~350 mg CBD)
CBD Muscle Rub is an alternative to topical relief products such as Tiger Balm. Our CBD Muscle Rub is based on an ancient Chinese formulation and designed to generate heat for relief from muscle soreness/aches and inflamed joints.
How does CBD isolate work in applications such as balms, salves and bath bombs? By combining CBD isolate with terpene rich plant extracts, we have increased the efficacy of not only the CBD, but also the essential oils themselves. Terpenes are basically the essential oils of plants (aroma emitting phenols), and responsible for its healing qualities. They work in tandem to either inhibit or activate the effects of other compounds within the plant.
The most prominent terpenes in cannabis are also present in many varieties of essential oils and can be absorbed through the skin, ingested, or diffused and inhaled for aromatherapy purposes. If we combine CBD isolate with essential oils such as Lavender (rich in Linalool), Rosemary (rich in Pinene), Mentha Spicata (rich in Humulene), Clove (rich in Caryophyllene) and Camphor (rich in  Borneol) etc, we can mix and match to effectively increase the terpene profile of a product and at the same time, enhance the efficacy of the CBD isolate. Combining CBD with specific terpene rich essential oils is like adding nitro to fuel! They will ramp up the efficacy of CBD to a level akin to that of whole plant extract - although the benefits of the other cannabinoids obviously won't be there.
For our CBD Muscle Rub, we have included a blend of essential oils and added terpenes. This blend will help generate heat in the skin, aiding recovery from aching/strained muscles and joints. The presence of this combination will also ramp up the benefits of the CBD isolate, making One Life CBD Muscle Rub a force to be reckoned with!
Muscle Rub includes beeswax. This natural wax is often used in lip gloss, salves, moisturisers and hair pomade. Made from the oils of honeycomb, beeswax acts as a stiffening agent and may also have anti-inflammatory properties. We've included the wax mainly to stiffen and allow a higher melting point: 64 degrees celsius, so even in the height of summer, your Muscle Rub will hold together and continue to provide the texture of a salve.
Directions for use: Apply as needed. The healing and soothing properties of the combination of oils are activated by heat, therefore it is best to gently massage in to the affected area. Blood flow to the area is increased to assist in healing. Muscle Rub may also be used to stimulate the muscles before training.
Store in a cool dry place, away from heat sources and direct sunlight. 
Cocos Nucifera (Coconut) Oil, Theobroma Cacao (Cocoa) Seed Butter, Cannabis Sativa Seed Oil, CBD Cannabidiol Isolate, Full Spectrum Cannabis Sativa Paste, Olea Europaea (Olive) Oil Wax, Persea Gratissima (Avocado) Oil, Vitis Vinifera (Grape) Seed Oil, Stearic Acid, Tocopherol, Sunflower Lecithin, Camphora (Camphor) Bark Oil, Menthol, Mentha Piperita (Peppermint) Oil, Eucalyptus Globulus Leaf Oil, Romarinus Officianalis (Rosemary) Leaf Oil, Cinnamomum Camphora (Camphor) Bark Oil, Clove Leaf Oil, Cinnamomum Cassia Leaf Oil, Cinnamon Leaf Oil, Limonene, Linalool,[Benzyl alcohol, Dehydro Acetic acid, Sorbic acid and Benzonic acid (eco-preservative)]

Discontinue use if skin irritation develops. For topical application ONLY! Keep away from eyes and mucous membranes. Keep away from children. Do not use during pregnancy. Do not use on breasts while breast feeding. Do not use while on blood thinning medication. Do not use in/on intimate area.
 
Very rarely will there occur an allergic reaction such as rashes, hives or itch. If any occur stop using the salve and immediately seek professional advice by pharmacist or doctor.
Do not use salve during sexual intercourse as it may cause burns or painful irritation.
One Life Foods® CBD products may cause drowsiness or stimulation. Do not drive a motor vehicle or operate machinery if this product makes you feel drowsy. Do not exceed the recommended dosage. One Life Foods® CBD products may conflict with your prescription medications. One Life Foods does not recommend combining our products with prescription medications until you have consulted with your doctor or a medical practitioner. One Life Foods® can not be held accountable should a medication conflict occur. Always consult your doctor/medical practitioner before taking any new product. The recommended dosage of One Life Foods® products refers to adults only. For children, the dose needs to be significantly lower. Please do not start your child on the adult dose.