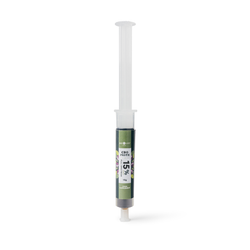 CBG Paste – 15% Full Spectrum 1500mg (10g)
CBG is often overlooked and underestimated when compared with CBD. However, CBG is potentially more effective, and certainly has more activity when compared with CBD. This may be down to CBG's high affinity for cannabinoid receptors;  binding directly and therefore eliciting a better overall response than CBD (indirectly impacts receptors). One Life Foods® CBG Paste is a 15% product, providing 12% CBG and 3% CBD for that extra response.

Unfortunately, hemp only contains relatively small percentages of CBG. Therefore we need much larger amounts of biomass to extract high amounts of CBG for paste/oil preparations. This impacts on cost, and is reflective in the price.
Full Spectrum Hemp Extract
MCT Oil
CBG/CBGA ~1200mg
CBD/CBDA ~300mg
Extracted by CO2