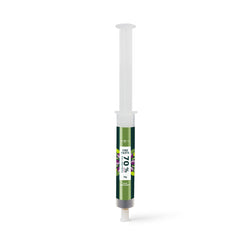 CBD Paste - 70% Full Spectrum 7000mg (10g)
The current maximum strength option in our range. One Life Foods® 70% CBD Paste is the highest quality, most honest product of its kind. Just like our oils, this paste is a 'full spectrum' product. 70% Paste is a raw extract and has only been subjected to minimal filtration processes. This means it retains much of its natural wax, which is rich in Omegas 3,6 and 9. Less de-waxing, and minimal use of carrier oil, means One Life Foods® 70% CBD Paste has a much higher viscosity than our other products (hence it is a paste, not an oil).
If you are purchasing a product which has low viscosity (is more 'liquidy'), then it won't retain anywhere near the amount of Omega 3, 6 and 9 that a more viscous (paste) product does. Pastes are much more concentrated than oils, and contain a wider spectrum of overall phytonutrients. One Life Foods® 70% CBD Paste is perfect for individuals looking for the very best in CBD supplementation.  
Full Spectrum Hemp Extract
CBD/CBDA
CBGA/CBG
MCT Oil
Extracted by CO2
Push a small amount of paste out of the syringe and place under your tongue. Hold there for a minute before swallowing. There's no fixed dosage. We recommend starting with a few mg of CBD paste and slowly building up the dosage. A way to measure is against a rice grain - a couple of rice grain size blobs of CBD paste is a good starting point, in order to gauge what you should be taking.