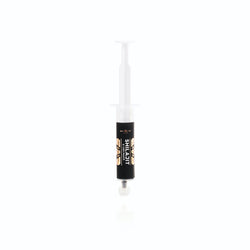 Shilajit + CBD Paste - Full Spectrum (10g)
Shilajit (2500mg) + CBD (1500mg) Full Spectrum Paste.
Our new paste is a blend of the infamous Siberian Shilajit (25%) and raw full spectrum hemp extract, yielding 15% CBD.

These two powerhouses work symbiotically to correct imbalances in the body's systems; adapting to your needs at the time. When Shilajit and cannabinoids are used together, they complement each other in a way that makes them stronger than if they were used on their own. Their effects potentiate each other, resulting in the best adaptogenic properties of any blend of any kind, anywhere full stop! 



Full Spectrum Hemp Extract
Purified, Activated Shilajit
MCT Oil
Push a small amount of paste out of the syringe and place under your tongue. Hold there for a minute before swallowing. There's no fixed dosage. We recommend starting with a few mg of CBD paste and slowly building up the dosage. A way to measure is against a rice grain - a couple of rice grain size blobs of CBD paste is a good starting point, in order to gauge what you should be taking.